Romanian literature is all literature written in the Romanian language, in any part of the world,
and which conveys universal values of humanity, peace, justice, action and solidarity. (MW)
What Being Romanian Means / Ce qu'être roumain veut dire
MIHAI EMINESCU (1850-1889)
Le pauvre Dionis suivi de Cezara, Arles: Actes Sud, 1993.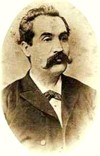 ISBN 2868699480. Translated from Romanian into French by Michel Wattremez (original: Sărmanul Dionis and Cezara).
Two short stories of a modern classic: the reincarnation of Dan the monk in Dionis, and the love of Ieronim and Cezara in the wonderful island of Euthanasius.
"Cinis et umbra sumus."
Poèmes posthumes suivis de Fragmentarium, Lille: wattremez.com, 2002.
Translated from Romanian into French by Michel Wattremez.
100 years before Cioran, one of the most original and pathetic poets of European literature explores the peaks of despair to seek meaning in life.
Michel Wattremez, "Mihai Eminescu et Gérard de Nerval. Etude comparative", Caietele Mihai Eminescu, VI, Bucharest, 1985, pp.143-166.
Drawing from the sources of Germany, this article studies how two imaginaries meet around Music and Drama.
Mihai Eminescu,"Avec demain grandit ton âge", translated from Romanian into French by Michel Wattremez, Bucharest: Revue roumaine, 12, 1979.
IONEL TEODOREANU (1897-1954)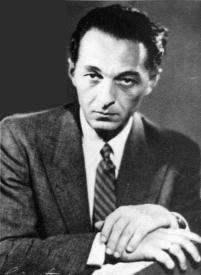 La Medeleni [

In Medeleni]:

an incredible trilogy in which the novel dissolves in its own representation,

owing much to

Marcel Proust as to the conception of literature as an ark and as a search for lost time, and

to

André Gide as to the novelistic techniques.

A striking incursion into the Moldavian myth.



Michel Wattremez, L'art romanesque de Ionel Teodoreanu dans La Medeleni (1925-1927), doctoral thesis, Aix-Marseille I University, 1995, in direct access.


Michel Wattremez, "La Medeleni comme roman du passage", Bucharest: Academia Română, Synthesis, XXII, 1995, pp. 77-87.

Michel Wattremez, "Jeux de miroirs dans La Medeleni", Bucharest: Academia Română, Revista de istorie şi teorie literară, XL, 1992(3-4), pp. 335-342.

I like very much these lines of Ionel Teodoreanu:

Barbarie, uitare, inocenţă, zâmbet, dragoste

Când ai trăit o viaţă întreagă printre lucruri şi fapte aspre, purtându-ţi colţii condensatei tale singurătăţi, când ai trăit războiul, dându-ţi seamă că civilizaţia e o pictură nu un organism viu, tenul unui fard, nu al sângelui, când ai simţit mereu că fiecare om, prieten ori duşman, e un copac vasal al codrului primordial, la umbra căruia, în loc de bancă, un lup aşteaptă, în crengile căruia, privighetoare, o gorilă clipeşte lubric; când te-ai deprins să nu mai socoţi viaţa ca un mănunchi de flori, idilic, cules de îngeri şi prefirat din poala lui Dumnezeu, ci ca o absurdă îndârjire milenară într-o vastă indiferenţă spaţială; şi când şuieri melodiile muzicei ca să nu scuipi, şi-ţi apleci ochii pe file ca să-i speli de viaţă, nu ca s-o găseşti acolo ― e ciudat, foarte ciudat, să simţi deodată frăgezimea unui zâmbet omenesc, hărăzit ţie!

Barbarie, oubli, innocence, sourire, amour

"Quand on a vécu une vie entière parmi des choses et des faits âpres, en arborant les crocs endurcis de la solitude; quand on a vécu la guerre, en s'apercevant que la civilisation est une peinture, pas un organisme vivant, le teint d'un fard, pas celui du sang; quand on a senti continuellement que chaque homme, ami ou ennemi, est un arbre vassal de la forêt primordiale, à l'ombre de laquelle, au lieu de banc, un loup attend, et dans les rameaux de laquelle, rossignol, un gorille cligne de ses yeux lubriques; quand on s'est habitué à ne plus considérer la vie comme une gerbe de fleurs, idyllique, glanée par les anges aux pieds de Dieu, mais comme un absurde acharnement millénaire dans une vaste indifférence spatiale; et quand on siffle les mélodies de la musique pour ne pas cracher, et qu'on baisse ses yeux de la feuille pour les laver de la vie, non pour l'y trouver - il est étrange, très étrange, de sentir soudain la fragilité d'un sourire humain, à soi voué!"

(Ionel Teodoreanu, La Medeleni, III, 1927, p.48, translated from Romanian into French by Michel Wattremez)

ALEXANDRU ODOBESCU (1834-1895)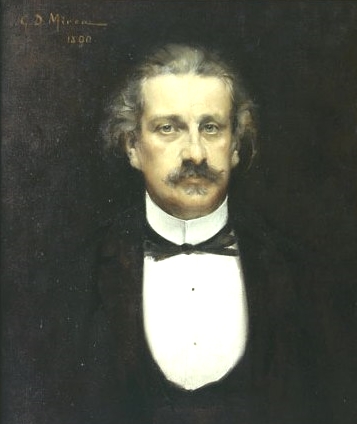 Best known for his study on Pietroasele Treasure (Paris, J. Rothschild, 1889-1890), Odobescu is less so by his false hunting treatise, Pseudokynegetikos. In the middle of the 19th century, this eminent Romanian historian, francophone and very keen on archeology, offers us a baroque text written with mask and feather, perhaps the most beautiful and enthusiastic defense of a Literature supposed to be hunted and moribund, in a world filled with information but in anorexia of knowledge and wisdom.
Four studies on Odobescu, Romanian erudition and wisdom
in the European cultural context
Michel Wattremez, "Pseudokynegetikos ou le doux-gai savoir d'Odobesco", in Littérature et appétit des savoirs, éd. Blanca Acinas, François Géal, Universidad de Burgos, Burgos, 2014, pp. 107-130. Extract
Michel Wattremez, "Interférences romantiques : Gérard de Nerval et Alexandru Odobescu", Asociaţia Culturală "A. Philippide", Philologica jassyensia, II, 3-4, Iaşi, 2006, pp. 181-191. Resumen en castellano
Michel Wattremez, "L'intervention du roumain dans la correspondance française d'Alexandru Odobescu" (1834-1895), Asociaţia Culturală "A. Philippide", Philologica jassyensia, I, 1-2, Iaşi, 2005, pp. 99-103.
Michel Wattremez, "Dissimulation et dévoilement dans le Pseudokynegeticos du Roumain Odobescu", Dialogos, Académie d'études économiques, Bucarest, 2003, pp. 40-43.
GRIGORE VIERU (1935-2009)
On the occasion of the celebration of Romanian Language Day ("Limba Noastră cea Română") on August 31, 2019, I translated 5 texts by Grigore Vieru. Here is the first one, "Albina" (The Bee). This gesture is a tribute to honour and respect both Moldova, the Romanian language and this great European poet.
L'abeille

"Heureux celui qui peut voler,
Celui que l'air aime et soutient."
Marin Sorescu

A lurie Sadovnic

Je viens, ô soeur, encor vers toi

Avec des mots pétris de terre,

Car rien n'est bien où tu n'es pas,

Où rien ne chante ton mystère.

Je devrais de paroles d'or

Te parer mais ne les trouve pas.

Je ne sais comment commencer

Au mieux pour ne vexer personne.

Tu es grain de sable d'argent

A l'aune claire de l'infini.

Mais sur le pain des braves gens

Tu es le miel et rêve exquis.

Etendard plus gonflant de paix

Je n'ai pu voir, ni plus sacré,

Que le drapeau de ton essaim

Survolant l'arbre du pays.

L'aube et toi vous êtes rivales

Quand tu moisonnes les tilleuls.

Mais je n'ose entonner mon chant

Avant que résonne son hymne.

Tu oeuvres gaîment comme sept

Et tu aimes à voler à cru

Et personne n'a le pouvoir,

Personne, d'entraver ton aile.

A toi en mon âme et pensée

Lié pour le bien pour le mal,

Je voudrais au bout de ma route

Que ton essaim me fasse fête.

Grigore Vieru, Now and forever, 2001

Translated from Romanian into French by Michel Wattremez, 2019. Dedicated to S.M.

Original text: "Albina", Acum şi în veac: poeme, cântece, confesiuni,

Chisinau: Litera International, 2001.

Electronic version: http://poetii-nostri.ro/grigore-vieru-autor-196/

Photo: thanks to O. Rousseil, Commons, CC